The best designer blenders.
Which are the most stylish blenders?
Everyone likes to have stylish kitchen appliances. Some like the industrial look and for others matching colors are important. Here are the Best Blenders most stylish blenders:
---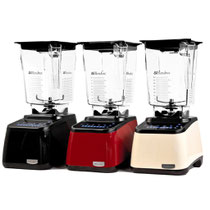 Blendtec Designer Blender Series WildSider
This Blendtech Designer Blender has been engineered to bring a whole new level of beauty and functionality to the high-end blender category, without compromising the famous power and efficiency of our Total Blender Classic. It is equipped with 1,560 watts (3 peak horsepower) of power, a computer-controlled blend cycles. The Blendtec Designer Blender makes any blending task a breeze, the max. 29,000 RPM's and 4" blade creates the smoothest dips, soups and smoothies ever. The BPA-free pitcher holds 96 oz. (3 L) and is NSF certified. It comes in three colors: cream, red and black. This Blendtec blender comes with a 7-year warranty.
---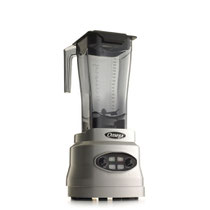 Omega Blender BL630 3-HP Variable Speed 
This Omega blender is a high-speed blender / commercial blender equipped with a 3-HP commercial-graded motor, which compensates for light or heavy mixing loads by automatically increasing or decreasing the speed as needed. Omega blenders are know for there durability. This Omega blender has variable speed control and timer function. This Omega countertop blender also provides a 64-ounce blender jar with a generous handle, measuring marks up the side. UL-approved for home and commercial use. It comes in three colors: silver, red and white. This Omega Blender comes with a full 10-year warranty, and 1-year limited for commercial use.
---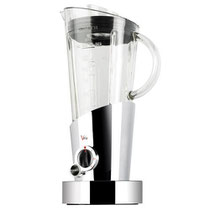 Bugatti Vela Blender
The Bugatte Vela Blender has a very modern stylish look. Its unique conical shape already sets it apart from most other blenders. The reinforced clear glass pitcher holds 50 oz and can be stored on the blender's base without the need of locking it into place. The three speeds, plus pulse, 400-watt motor is housed in one of four vibrant lack colors: red, black cream and . The Bugatti Vela blender comes with a one-year warranty.
---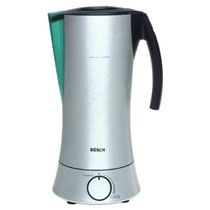 Porsche Designer Series Blender – Bosch MMB 9110 UC
This blender's design is from Porsche but its 450-watt motor is from Bosch, also a German company. The double-tapered cylinder is in brushed aluminum, with a dark-purple plastic trim. The dishwasher-safe polycarbonate pitcher has a slightly protruding translucent green spout, holding 51 oz.
---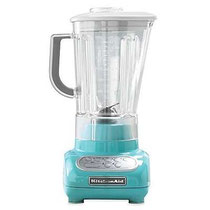 KitchenAid Blender KSB560 and KSB580
In terms of color selection nothing comes close to the KitchenAid Blenders KSB line. With 14 different colors to choose from everyone is bound to find one that fits the color pattern of their kitchen. This 5 speed KitchenAid blender houses a powerful 0.9 horsepower motor and Intelli-Speed electronic touch pad controls in its die-cast metal base. The wide and clear polycarbonate 56 oz. one piece pitcher has a comfortable soft-grip handle. The cord can be stored under the blender's base. It comes with a one-year warranty. 
New product: KitchenAid Diamond Vortex Blender KSB1575 comes in a multiple colors too. 
---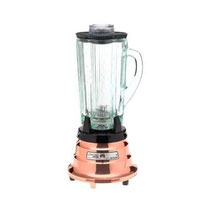 ---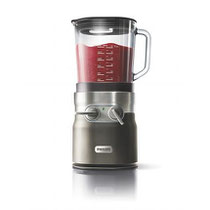 What makes the Philips blender unique is its two-blade blending system. Most blenders are round or square, this blender is oval shaped. The base is die-cast aluminum with a 5 speed 850-watts motor, with pulse features. There are two large switches for easy control. The pitcher is clear, holds 67 oz. and is made of high quality borosilicate glass, which is scratch-proof. The two rotating serrated blades each have four prongs for continuous ingredient flow. It comes with 5-year overall and 15-year guarantee on the motor. Currently only available in Europe.
---
Breville Die-Cast Hemisphere Blender 800BLXL
This Breville blender is for the modern kitchen with its die-cast brushed steel square look. A solid base equipped with a 1,000-watt motor. The clear square polycarbonate pitcher with a soft grip handle is marketed with red measurements for easy reading, fitting 67 oz. (2L). The pitcher's base is consistent with the blender's base, brushed steel. The control pad is designed without crevices for easy cleaning. There are four control buttons: power, blend, smoothie and ice (pulse function). The Breville blenders Hemisphere™ blade system (six prong) is unique as it utilizes a large, semicircular shredding blade positioned to hug the uniquely shaped bowl.  
---
---