Oster Blender Beehive 4119-022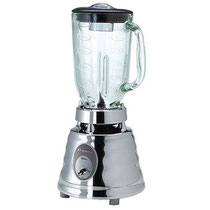 Blender Type: Home Blender
Model: 4119-022
Manufacturers Price: $99.99
Amazon's Price: Click Here
Oster Blender Beehive 4119-002 is powered by an all metal drive system from the 600-watt motor to blade. The blender has two speeds, high and low, and comes with a dishwasher safe 40 oz. ribbed-and-tapered glass pitcher. The Oster blenders pitcher's lid also functions as a 2 oz. measuring cap. The stainless steel beehive-shaped base gives the blender a classic retro look. Oster Blender Beehive comes with a one-year warranty.
---
Top Product Features
Oster Blender Beehive Classic 4093 top product features are:
Powerful 600-watt motor, all metal drive system
2-speeds, high and low
40 oz. dishwasher-safe ribbed-and-tapered glass blender pitcher
Easy to clean, removable blade assembly
Classic beehive-shaped base clad in stainless steel
Made in North America
One-year warranty
Get your Oster Blender Beehive 4119-002 today.
---
Product Specifications / Details
Brand and Model Name
Oster Blender Beehive 4093
Model
4093
Blender Type
Home Blender

Dimensions

16" Height, 7 1/4"Width, 7 1/4" Depth

Weight
11 lbs
Watts
600-watts motor
Blender Speed(s)
2 (high and low)
Automatic Shut-off
No

Dishwasher-Safe Pitcher
Yes
Pitcher Material
Glass
Pitcher Size
40 oz. (1.2 L)
Pitcher Color
Clear
1-Piece Pitcher
No
Stainless Steel Blender Blade

Yes
Blender Blade Style
4-prong
Base Color(s)
Stainless Steel
Preprogrammed Cycles
No
Pulse Control
No
Made In
North America
Warranty

1-year warranty

 

Manufacturers Price
$99.99

Amazon's Best Price
Click Here to Get Amazon's Best Price.
Get your Oster Blender Beehive 4119-002 today.
---
Product Photos - Click to Enlarge
---
Oster blender brand began in 1923 when John Oster purchased Stevens Electric, the company that invented the liquefier. Soon after, the fist Osterizer Blender was introduced. From then on the Oster brand grew to be a symbol of quality and style in the industry. Today Oster blenders are designed, manufactured and marketed by a leading consumer products company, Jarden Consumer Solutions, a subsidiary of Jarden Corporation. They own world-class brands such as Bionaire®, Holmes®, Mr. Coffee®, Oster®, and Sunbeam®.
Get your Oster Blender Beehive 4119-002 today.
---