Which blender to get?
Blenders are amazing appliances, but getting the wrong one can unfortunately turn it into a useless piece of junk. Today there are more models available than ever before, and the prices vary tremendously. So, which one to choose? Is more watts (power) better? Not really. Does it matter what I put in my blender? Yes. How important is the speed of the blades? Very important. Is more expensive better? Not really. Are glass pitchers better? No. Is your head spinner? No worries, we got you covered.
If you have never operated a blender before then I suggest you first read First Time Blender Buyer. This will give you a good introduction and make you think about your needs.
For everyone else, if you are looking to upgrade or invest in a good solid blender that will do everything you want and a bit more then it's a very good time for you as there are currently many great blenders on the market. Knowing why you want to blend is very helpful as this will be your motivation to keep blending and get the most out of your prized blender.
Over the holidays we've updated the list of blenders which we consider worthy to be featured on Best Blenders. We've made it very easy for you to scan through the different levels:
And, of course, you can view blenders by brand name too.
On the actual product pages, e.g.,  Blendtec Designer Series Wildside  we first provide a photo of the blender and a very brief description.
Right below the description is a listing of the top product features of each blender.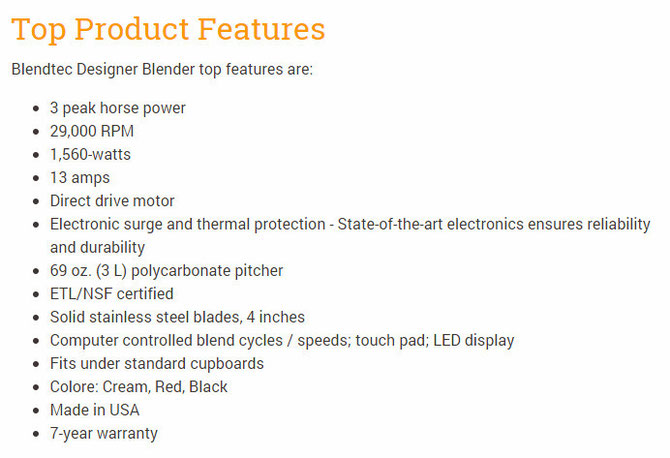 For the blenders product specifications we display this very clearly by using a simple chart system. We gather as much information as we can, by visiting the manufactures website and other credible sources, as well as review the product ourselves.
A review would not be complete without some product images of the blender. The images can be enlarged by clicking on them.
Last but not least we provide a short company description, so that you know a bit about the company who makes your blender.

And, once you've found your blender we provide a direct link to purchase your blender at the trusted retailer, Amazon.com.  And, yes, we do get a small commission from your purchase, which allows us to keep Best Blenders up and running.
Happy shopping and blending from Best Blenders.