Super Charge Your Next Smoothie!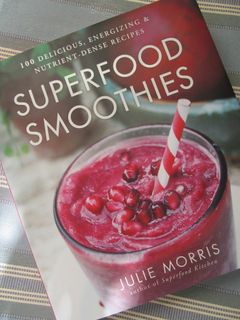 Have you every thought about super powering your smoothie? If not then it's about time. With the incredibly successful book Superfood Smoothies, from Julie Morris, you can super charge your daily smoothies.  It is the ultimate superfood smoothie book filled with more than 100 delicious, energizing and nutrient-dense recipes. 
We all know now that superfoods are good for you. Julie Morris is and expert in superfoods. She is also the author of Superfood Kitchen and is the Executive Chef for Navitas Naturals, a fair-trade company that specializes in 100% organic superfoods. Her often innovative culinary methods will make everyone of your smoothies so incredibly delicious and nutritious that you might even want to host a Superfood Smoothie Party for your best friends. 
You will be amazed by all the new ingredients you will discover and learn to use to make your smoothies into super power smoothies. The colorful photos in the book will suck you into dreaming smoothies, and more smoothies. You will be able to smell them just by looking at the photos, a clean fresh sent that will make your mouth water and crave one right now.
Stop "mixing" around, and start super powering your smoothies with superfoods - get the book.