Blender jars - which one is best for your needs?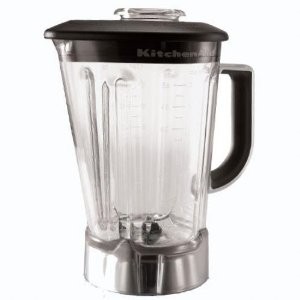 Blender jar or sometimes called blender pitcher comes either in one-piece or can be screwed apart. Best Blenders prefers the one-piece blender jar as it is easy to clean if one washes it out right after use. It's only a matter of seconds with most blending jobs. The blender jar that can be dissembled is also easy to clean, if one doesn't mind taking the parts apart and assembling them later again. Both systems have its advantages and disadvantages. All high-speed blenders and commercial blenders use the one-piece blender jar.
The next important aspect of a blender jar is glass vs. polycarbonate. Important is that if polycarbonate that it is of good quality and that it is BFA free. Avoided cheap plastic blender jars. Glass blender jars always looks great but they are also heavy and can break easily. If used by children or elders polycarbonate blender jars with a good grip is more advisable, e.g., KitchenAid Blender KSB560 (one-piece blender jar), Breville Die-Cast Hemisphere Blender 800BLXL (dissemble blender jar), or VitaMix Blender Professional CIA (high-speed blender).
Some blender jars are commercially rated, meaning they have a certificate that allows them to be used in cocktail bars, and smoothie and juice bars.
The blenders jar sizes range from 32 oz to 82 oz. The smaller jars are more for cocktail bars and single households that mainly make smoothies and cocktails. Most range from 48 oz to 67 oz, which is more than enough. Best is always to go with the larger size as you don't want your blender to overflow. Your family size or portion size might be an important factor when deciding, which is the best blender for your needs and lifestyle, e.g., baby food, entertaining friends, or preparing meals for the entire week
Blender jar lids are important as you don't want them to blast off when you turn on your blender. At the same time you don't want a mechanical engineer degree in trying to get them off. They have fit tight but also be easy to remove. Some blenders jar lids some with a plunger, e.g., L'Equip RPM Blender - Model 228 and all VitaMix Blenders.
Some blender jars are wider than others. When working with food wider is generally better, less clogging.
All blenders are dishwasher safe so there isn't really anything to compare by other that the blenders jar size might play a role. Best Blenders wrote an article, "Best way to clean blender pitchers?"