Ninja Blender - New but will it be a Best Blenders?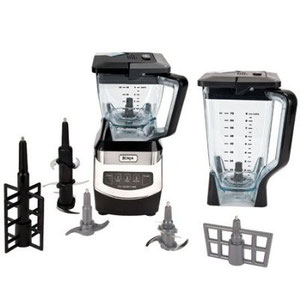 The Ninja Blender is new to the kitchen blender market. It is not yet featured on Best Blenders as it first needs to prove it self. So, far things are looking good for the Ninja Blender as the first reviews are promising. However, Best Blender will give it some more time to let uses fully use it, testing its durability and how the company deals with any warranty issues.
The Ninja Blender KS1100 – Model BL700 comes with a powerful 1100-watt motor, two dishwasher safe BPA-free blender pitchers (72-oz and 40-oz) and various interchangeable blade systems. The 40-oz. blender pitcher is more a processing bowl, meant to replace the food processor. The extra larger 72-oz. blender pitcher is perfect for entertaining and large families. The Ninja Blender offers a 1-year limited warranty.
If you are considering the Ninja Blender please do read the reviews on Amazon first, the 5-star reviews and also the 2-star reviews.
Here are two articles if you are uncertain which is the best blender for you: