Designer blenders look great but do they get the job done?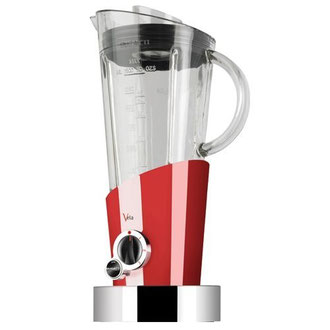 Designer blenders look great and can certainly add style to anyone kitchen. But can they get the job done? Some designer blenders are certainly more capable than others, none are high speed blenders though.
All featured designer blenders by Best Blenders are more than capable of making you really great smoothies. Besides just designer looks be sure to make sure the blender you select fits your needs too.
For some people their designer blender needs to have the right color to match their kitchen decor and accessories. The Bugatti Vela Blender, featured to the left, comes in two colors: red and chrome. The KichenAid Blender KSB560 comes in eight different colors, so there is something for everyone.
From a design perspective the Blender B99 and Bugatti Vela Blender are certainly more modern looking. The L'Equip RPM Blender - Model 228 has an industrial look with its brushed aluminum finished and tachometer displaying its operational speed. It comes with a powerful commercial quality 900-watt motor too.
Seeking a more retro look then the classic Waring Pro Blender - MMB Series - Professional Bar Blender MBB520 with its rich shiny heavy duty copper metal base and colverleaft shaped glass pitcher will certainly add very well to your kitchen. If you like the style however would prefer to have it in brushed steel then you will want the Waring Pro Blender MBB518.